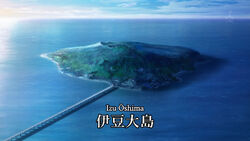 Oshima
, more specifically
Izu Ōshima
(伊豆大島,
Izu Ōshima
), is a volcanic island located south of the Japanese capital city of Tokyo, and is part of the Izu Islands, all of which are under the jurisdiction of the Tokyo Metropolitan government.
In Vivid Red Operation, it is the landmass closest to Blue Island, which is located just north of Oshima, and is the home of most of the main characters in the series.
Noted Locations
Edit
Oshima North Hill Elementary and Junior High School
Isshiki Residence
Mt. Mihara
Ad blocker interference detected!
Wikia is a free-to-use site that makes money from advertising. We have a modified experience for viewers using ad blockers

Wikia is not accessible if you've made further modifications. Remove the custom ad blocker rule(s) and the page will load as expected.